Specna Arms

Specna Arms is an established brand on the Airsoft market. At an attractive price, you may find what's been missing in this particular segment. High quality of making and fitting, anodised receiver, laser markings, functional bolt catch, and models in rarely encountered versions are only the wrapping of what we are about to discover inside the package.

It's not hard to make replicas which have high quality and at the same time high price. Specna Arms' aim is that you can have a really good and exceptional replica without having to spend a small fortune.
Product 1 to 1 of total 1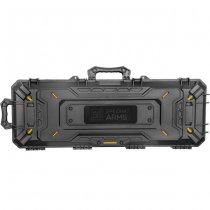 Material: Polymer Outer Dimensions: 1060 x 400 x 150mm Inner Dimensions: 1020 x 325 x...
(Read more)
Product 1 to 1 of total 1